Skip to Main Content
It looks like you're using Internet Explorer 11 or older. This website works best with modern browsers such as the latest versions of Chrome, Firefox, Safari, and Edge. If you continue with this browser, you may see unexpected results.
HKU Libraries' Resources
Manupatra is a useful legal database that offers the search of legal, statutory, regulatory and procedural materials of India. Law reports, legislations and statutory materials can be searched and found that offers insights on different aspects of law in India.
To understand how the database works, visit Manupatra's Training Manual for more details.
To access the database, you are reminded to obtain login information via the path indicated in the FIND@HKUL record. HKUL Authentication is also required via login to your HKU Portal account.
In Lexis Advance Hong Kong, you are able to find reported cases, orders and miscellaneous orders of High Courts of different states in India. For instances, the Allahabad High Court, Delhi High Courts, Madras High Court and etc. Relevant materials of the Supreme Court of India can also be obtained. Coverage of materials are updated to the present.
To look up for law reports, follow the steps below:
Access Path: Browse > Publications > India > By Content Type > IN Cases
Judgments of the High Court and Supreme Court can be easily accessed via Westlaw Asia. In addition, judgments are also categorized according to their relations to different Tribunals and Commissions in India. Please note that Indian cases available on Westlaw Asia are archived up until 31 March, 2021.
To browse different law reports, follow the steps below:
Access Path: Content Type

> Cases > India Case Law
Regards as one of the major law reports in India, A.I.R. covers all reportable judgments of the Courts in India, from High Courts to Supreme Court. Yearly referencer and annual index of the Supreme Court can also be found. In general, total number of volumes varies year by year, from 8 to 15 volumes per year.
Supreme Court Reports [SCR]
Published under the authority of Supreme Court of India by the Manager of Publications, Civil Lines, Delhi, this title contains cases determined by the Supreme Court of India starting from mid-20th century.
Law Reports, Indian Appeals [LR Ind App]
Published by the Incorporated Council of Law Reporting for England and Wales, this title focused appeal cases in the Privy Council during the time of being a British Colony.
Official Sources
Supreme Court of India (click to visit)
The official website of the Supreme Court of India provides judgments made under the Supreme Court, with fruitful information about the institution, its history, and legal materials on different subjects. You may also find annual reports, starting from early 21st century, and the Supreme Court Reports (S.C.R.) of selected years on this website.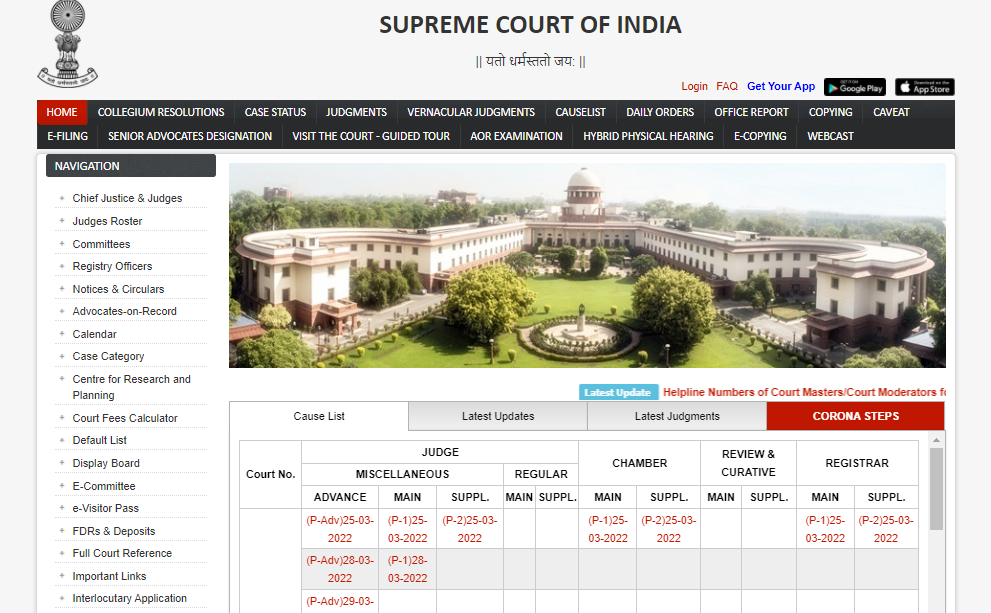 E-courts Service (click to visit)
Maintained by the National Informatics Centre, Ministry of Electronics & Information Technology, Government of India, this site provides a very comprehensive consolidation of cases and judgments made under the High Courts, District and Taluka Courts of India. Here, you are able to obtain directional instructions to different courts and useful legal materials.
Open Access Resources
Legal Information Institute of India (LIIofIndia) (click to visit)
With it aim in promoting free access of law, LIIofIndia serves as an all-in-one platform for you to access to cases made by different courts. With its connection to the LII movement, resources available via other LIIs (e.g. AsianLII, CommonLII and WorldLII) can also be easily directed and accessed.