Skip to Main Content
It looks like you're using Internet Explorer 11 or older. This website works best with modern browsers such as the latest versions of Chrome, Firefox, Safari, and Edge. If you continue with this browser, you may see unexpected results.
Sharing data
Invite Collaborators
New Project
1. Click on the "invite new users" button on the right hand side to invite people to join your project by searching their full names or ORCID.

2. At the "invite new users", input the person's name and email address and select the role that you assign them to the project. Two roles can be assigned.

Collaborators - these members can upload files, download other members' files and make/view comments.

Viewers - these members can view uploads and view comments only.
3. Click "Send Invite" button.
Existing Project
At the existing project page, click the Manage cog wheel icon and choose "Edit project details". Follow the same steps as described above.

Share Files
1. Click + Create a new item and open the item submission form.

*If you have already uploaded your files previously, open your saved item record in the "My data" page.
2. Scroll down to the bottom, click on the "Generate private link" to generate an URL that you want to share the content with other users.

3. You can create a private link to data, a link file or a metadata only record. The private link can be shared with anyone with a Figshare account or not.
Disable Shared Link
1. After the collaborators have downloaded the data or files you have shared with them, go back to the publication form.

2. Place the cursor on the cross icon and make the word "disable" appear.

3. Click "Yes, disable" to disable the link permanently.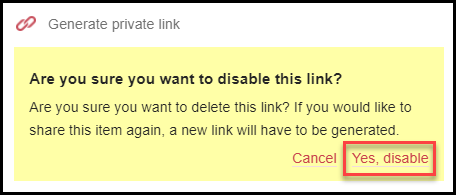 4. A confirmation statement will be appeared after the link is disable.

Cite Data
Underneath the public data, you can cite the data by the following steps:
1. Under the "Cite" section, select the citation style from "DataCite" pull-down menu.
2. Place your mouse over the citation text, select and copy the citation.
Share Data
You can share the data via Facebook, Twitter, LinkedIn and Email by clicking "Share", next to the Download button.
Embed Data
To embed the data to your device, you can click "Embed", then mouse over the embed code, and copy the code to your device.
The embed functionality can only be used for non commercial purposes. In order to maintain its sustainability, all mass use of content by commercial or not for profit companies must be done in agreement with Figshare.
Data and Scholarly Communication Librarian