Many CD-ROMs or Web resources contain cases on a specific subject area.
Collections of Specific Subjects
There are collections of summaries, or references which are organized by legal subjects. These can be useful if you want to look at leading cases in a narrow subject area.
Halsbury's Laws of England
Call Number: PR KF85 H1
ISBN: 9780406047762(set)
5th ed. 2008-
This is an encyclopaedic work in many volumes. It describes the laws of England & Wales and supports each statement with citations to primary sources. Use the Subject Index volumes or the indexes in individual subject sections.
Also available in electronic format via Lexis.com
Current Law Year Book [CLY]
Call Number: PR KF85 C92
1952-
Collects summaries of leading cases heard during each year under subject headings.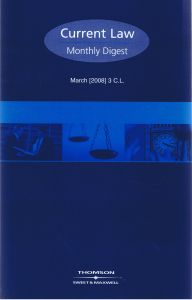 Current Law Monthly Digest [CL]
Call Number: PR KF85 C93
ISBN: 0968-3194
Cases are arranged under the same subject headings and it is a good source of recent cases.
Practitioners' textbooks or manuals
If newly published or in looseleaf format, are an excellent source of case references. They are usually quite comprehensive and detailed.
Check out these free sites: